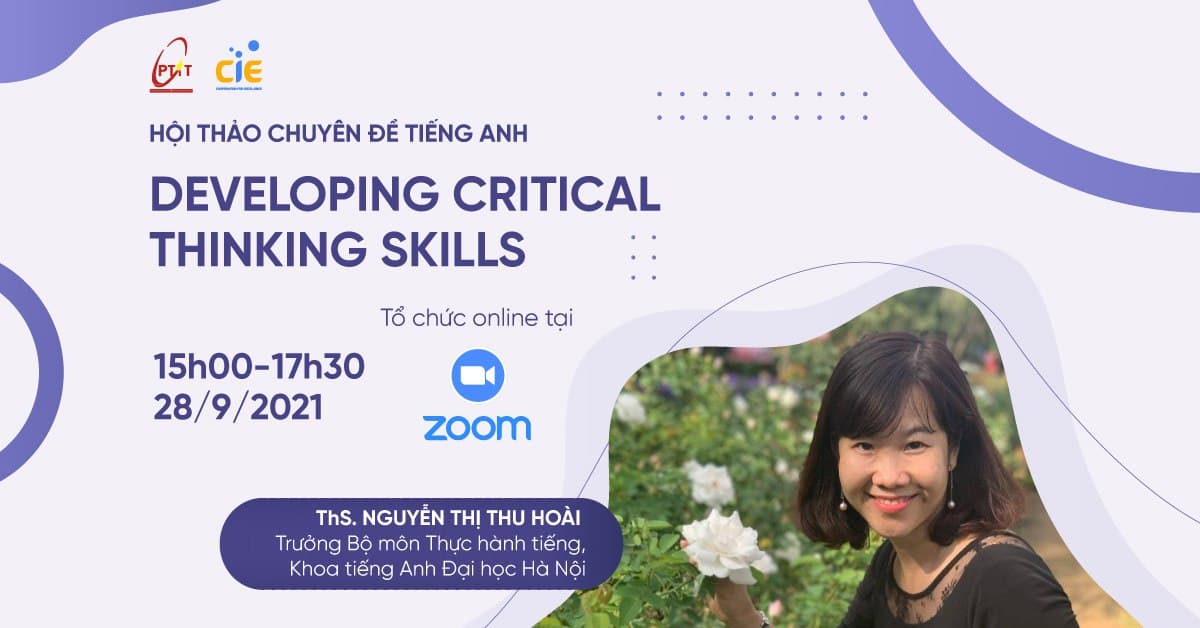 In order to facilitate the students to attend English workshops – exchange and learn knowlegde from reputable and professionally qualified English experts/lecturers to acquire new knowledge suitable for the trend of the present time and cultivate soft skills to develop comprehensively personal capacity, the Center for International Education (CIE) organized the English workshop "Developing Critical Thinking Skills" the students of the High Quality Training Progamme, taking place online on September 28th, 2021. Attending the workshop there was the presence of the guest speaker MA. of TESOL Nguyen Thi Thu Hoai – Lecturer of English, Head of English Foundation Division, English Department of Hanoi University (HANU), the representatives of the CIE's Management and a large number of students coming from the high quality classes E18CN1,2, E20CN and guest students inside and outside of PTIT .
As a new method of thinking, critical thinking is considered as one of the most important and essential skills effectively applied to almost all areas of life. Through an attractive and engaging presentation, the speaker helped the students have a full view of critical thinking, thereby they can flexibly apply it to: (i) Form logical and well-founded arguments and point of view, make the rightest and the most accurate decisions before any problem needed to be solved; (ii) Help them achieve higher academic achievements in their learning process; (iii) Actualize their professional or career goals; (iv) Enhange cognitive skills which make them become better problem solvers; (v) Facilitate their intellectual self-improvement; and (vi) Help students develop a more creative and more active brain in the process of study, research, in work and in life.
At the end of the theory session on critical thinking, the speaker led and coordinated  the student teams from the high quality classes to participate actively in the dramatic debate practice. They knowe how to flexibly and creatively apply critical thinking skills to come up with arguments to solve problems related to the topics being debated. With the topic "Artificial Intelligence (AI) will replace humans in the future" the winner went to the debate team from class E20CN. And the topic "Facebook makes our life better" ("Facebook makes our life better" brought the tie result for 2 debate teams of classes E18CN1 and E20CN.
The English workshop "Developing Critical Thinking Skills" ended with the strong support and positive feedback from the students. The interesting experiences from the workshop will contribute to helping them become more confident and more active in the process of studying, researching and professional working in the future to achieve better performance, especially in the current competitive and developing environment.
Facebook: PTIT International or CIE PTIT
Hotline: 088.616.0606