On July 9, Center for International Education (CIE) in cooperation with GameLoft Hanoi organized a Workshop on Game Development Process with aiming at providing useful professional up-skilling programs and providing practical knowledge for students who are fond of game development. The workshop attracted 88 students from the High Quality Training Program in Information Technology and students from Multimedia disciplines at Posts and Telecommunications Institute of Technology. Attending the workshop, on the side of the CIE leadership there was presence of Assoc. Prof. Dr. Hoang Huu Hanh – Director of CIE, Ms Nguyen Minh Phuong – Vice Director of CIE. On the side of Gameloft Hanoi, there was Ms Nguyen Thi Nguyet – Talented Recruitment Manager, Mr. Hoang Manh Hung – Training Expert and Ms Bui Thi Phuong Thao – Recruiting Expert of Gameloft Hanoi.
At the beginning of the workshop, Ms Nguyen Thi Nguyet shared briefly about the establishment history and position of GameLoft in Vietnam as well as in the global market. Established in 2000, Gameloft has become one of the breakthrough and leading enterprises in the field of manufacturing game applications on digital platforms and social networks in the world. Some published products are under the copyright of Gameloft such as Asphalt, Dragon Mania Legends, Modern Combat and Dungeon Hunter; At the same time, the company is also a partner with major brands including Disney, LEGO, Universal, Illumination Entertainment, Marvel, Hasbro, Fox Digital Entertainment, Mattel, Lamborghini and Ferrari. Gameloft is a company belonging to Vivendi Group.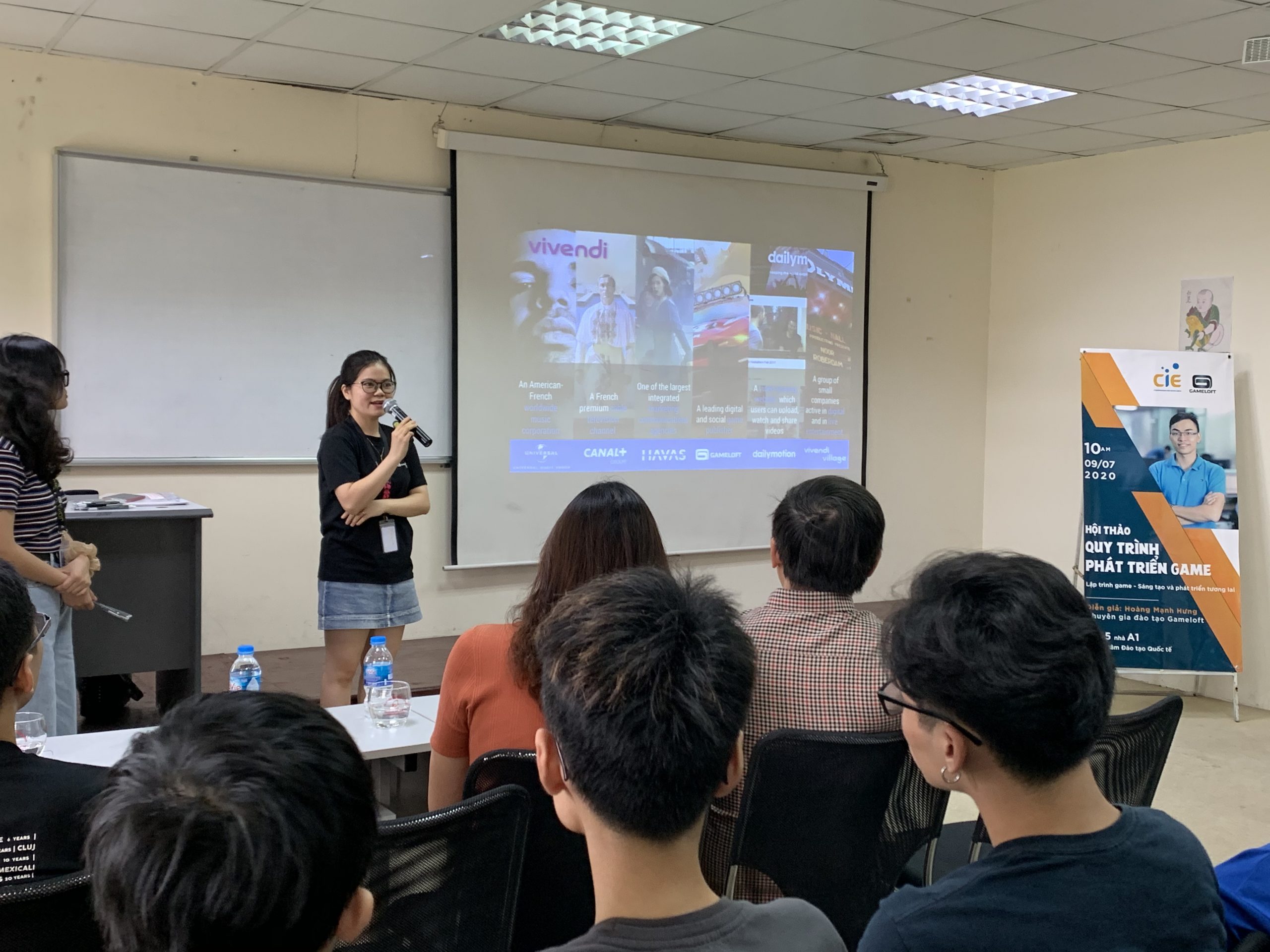 Ms Nguyen Thi Nguyet is sharing information about Gameloft
At the workshop, Mr Hoang Manh Hung, Training Expert, shared knowledge and information about the topic "Game development process" with contents related to game programming language, general game development process, the similarity and difference between Gameloft and other companies. Mr. Hung also presented all the positions in the game industry, functions and average salary of each department: Programmer, Game designer, Artist, Instructional designer, Technical director, Subject matter expert….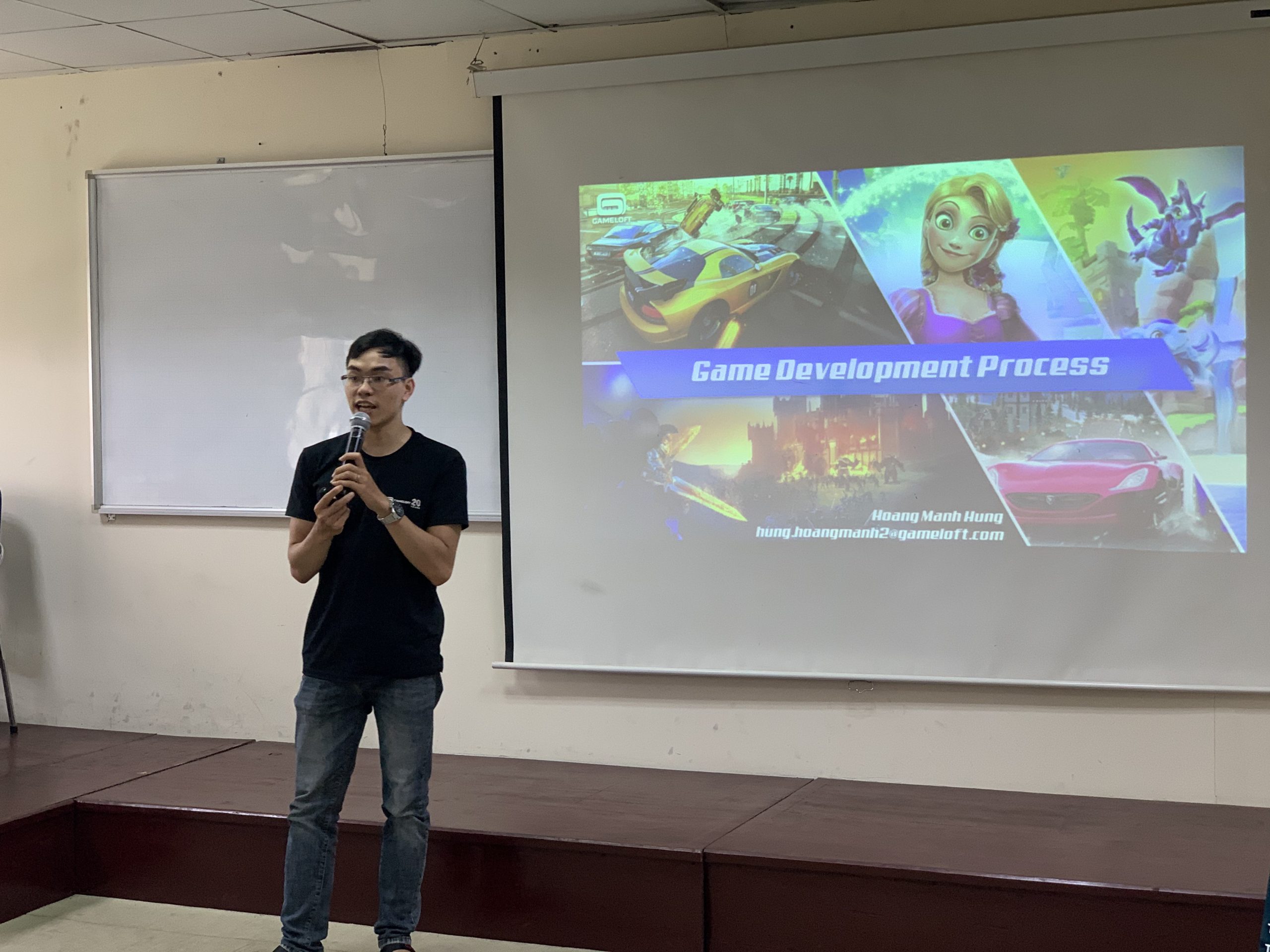 Mr Hoang Manh Hung is sharing information
Coming to the workshop, the participants were not only shared about knowledge and skills, but also took part in playing games, asking questions for experts and receiving gifts from Gameloft.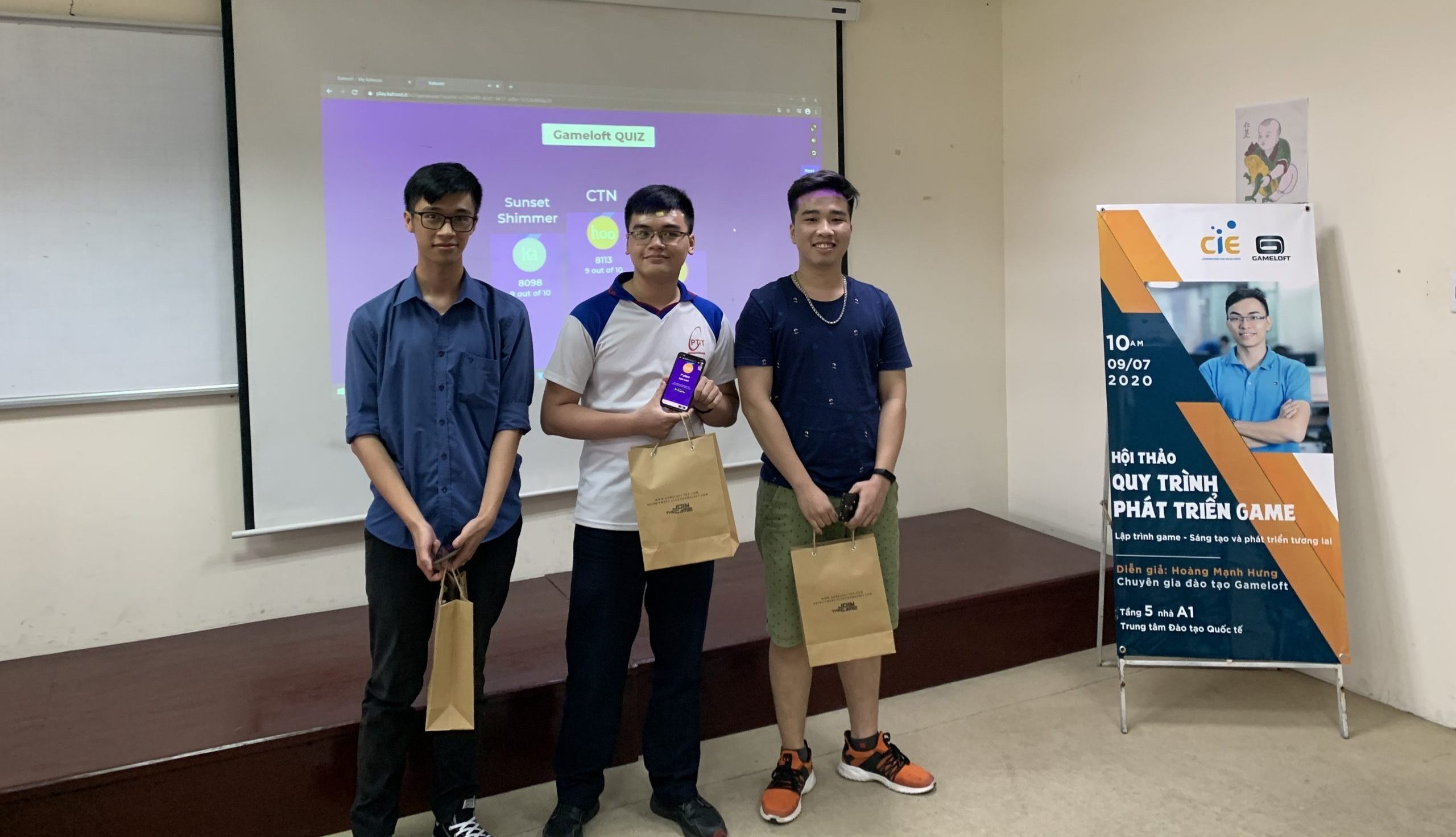 The students are receiving gifts from Gameloft
At the end of the workshop, Assoc. Prof. Dr. Hoang Huu Hanh extended his sincere thanks and gave souvenirs to the representatives of Gameloft Hanoi as the token of appreciation. The workshop also marked the first cooperation activity between CIE and Gameloft in order to open the development orientation of the two units in the future.