From 12 to 13 December 2019, in Hanoi, the Conference on "Information and Computer Science" (NICS 2019) by the National Foundation for Science and Technology Development (NAFOSTED) in collaboration with the Academy Posts and Telecommunications Technology (PTIT) organization has been taking place with the participation of more than 100 scientists from 16 countries.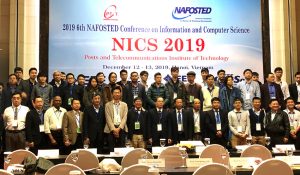 The conference is an academic forum for scientists in Vietnam and around the world to present the latest research results in the field of information and computer, especially the results of the priority research direction. is sponsored by NAFOSTED in fields such as computer science, networking, communications, software technology, information systems, AI, and knowledge development.
NICS 2019 is organized with 18 technical sub-committees: 6 subcommittees on Communications and Networking, 8 subcommittees on Intelligent Computing, 1 special subcommittee on new quantum technologies for mobile communication systems. 5G or more, a special subcommittee on new technologies in Information, Coding, and Signal Processing in Communications, 1 subcommittee on Software Engineering, and 1 subcommittee on Computer Science.