On April 25, 2020, as one of the nine member institutions of the MOTIVE Project, the Posts and Telecommunications Institute of Technology participated in an online seminar on the implementation of the project.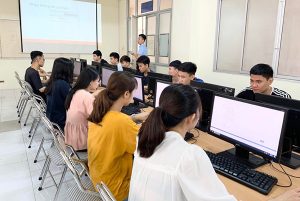 In the period of 2015 – 2018, PTIT implemented the VOYAGE Project "Opportunities for the Young And Graduates Employability in Vietnam" to enhance the working ability for students of universities in Vietnam. The main purpose of the project is to build an information technology platform, provide online assessment tools to collect, update, survey records and information of students at 3 universities in Vietnam (including PTIT) to study the compatibility between the curricula at these universities and the labor market in Vietnam.
Following the success of this very well-evaluated project by the European Union, the project on MOnitoring Trends In Vietnamese graduates Employment (MOTIVE) project has been continued by the European Union. The idea is to approve with the increase of 6 new university members and the state management agency of the Ministry of Education & Training. The project will last for 3 years from 2020 to 2022.
In order to ensure the synchronous implementation of the project between 3 former member universities of the VOYAGE Project and 6 MOTIVE Project member universities, the project organized a seminar on introduction and guidance of the project content. Accordingly, the research team introduced an overview of the project, the content of the survey tables used for research, analysis, communication techniques to engage students and the technical team introduced the operation and use of the system. With the social gap caused by the Covid 19 epidemic, the seminar took place on Google platform with the participation of 74 project team members, including the Project Country Director as well as the whole members of the project's professional groups.
After 3 hours of lively discussion, the workshop reached a consensus, shared a common understanding of the project's activities and will quickly deploy communication to attract a large number of final year students to participate.