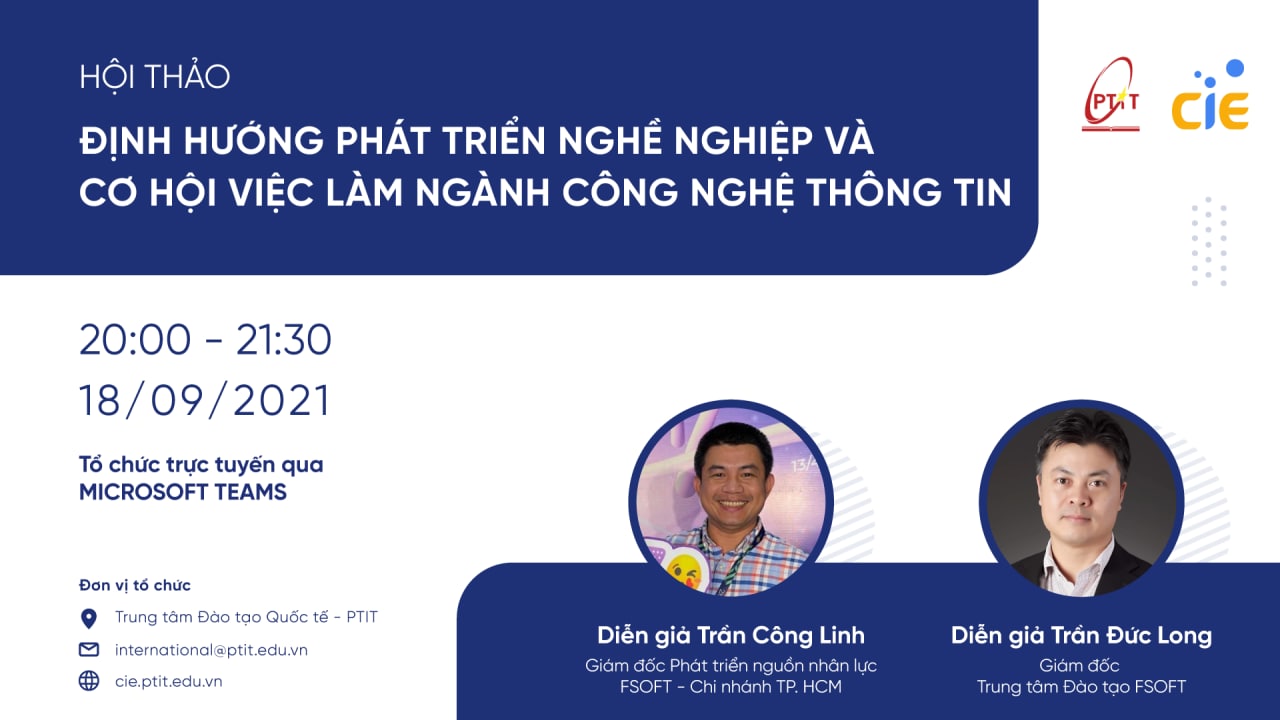 With an aim of meeting the need and desire of the high quality students to participate in workshops for exchanging and learning with experts in the field of ICT in order to access and update knowledge about new technological trends, accumulate and cultivate soft skills for  comprehensively developing  personal capacity, effectively applyigg  trained professional knowledge to work after graduation from university and starting successful business set-up, Center for International Education (CIE) – Posts and Telecommunications  Institute of Technologies (PTIT) organized a webinar "Career development orientation and job opportunities in IT" for the students of the  High Quality Training Programme, taking place on September 18, 2021.
Taking part in exchanging and sharing experiences at the webinar, there  were guest speakers coming  from one of the leading ICT enterprises in Vietnam: Speaker  Tran Cong Linh – Human Resource Development Director of FSOFT – Ho Chi Minh City Branch and speaker Tran Duc Long – Director of FSOFT's  Training Center.
The objective of the webinar is to equip the students with essential knowledge and skills related to career development and job seeking  in the IT industry, including: Basic knowledge/information about orientation job; the way of approaching the labor market and job opportunities in the IT industry; Competency requirements for IT personnel in the recruitment market; Creative and innovative thinking methods for business set-up and career development. At the same time, the speakers also shared  their own successful start-up experiences and skills in the ICT field.
In parallel with the process of training specialized knowledge for the students, the Management of PTIT and CIE – the organization and  management unit of the High Quality Training Programme always takes care of organizing career-oriented and academic extra-curricular supporting activities for the high quality students.
The webinar  "Career development orientation and job opportunities in the IT industry" will make an important contribution to the process of comprehensively developing students' self-capacity, creating motivation and confidence for them to strive for success in the studying  and self-improving process at PTIT, helping them to acquire a solid knowledge foundation for successful business set-up after graduation from university.
Facebook: PTIT International or CIE PTIT
Hotline: 088.616.0606