On 21st May 2019, the Centre for International Education (CIE) in cooperation with the students of the high-quality training classes held a seminar in English with the topic "Time Travel" Coming to the workshop there was the presence of the leader and the staff of the CIE, the guest/speaker, the lecturers of English from the Major of Foreign Languages ​​and along with numerous students coming from the high-quality training classes of the PTIT.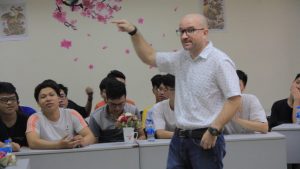 With the desire to create a friendly, healthy and rewarding English-speaking environment, the sessions of topical seminars and workshops in English are a reliable address for the high-quality students in particular and for the students inside and outside the PTIT to gather with an aim of learning, comprehending knowledge, practicing, cultivating and improving their English language proficiency and English using skills. At the seminar, the return of Mr. Presley McFadden – a guest speaker, who has always been admired by Vietnamese students coming from the Resource of International Exchange (REI), the United States and being a key member of Tea talk Vietnam, has brought the high-quality students a very impressing presentation and interaction related to the topic "Time Travel", arousing the passion for learning, discovering new and exciting things, expanding knowledge, and contributing to helping students improve their ability to interact and use English. With a natural and charismatic approach to the problem, Mr. Mc Fadden led the students to excitedly participate in a lively discussion of the issues related to the topic and shared his ideas and views along with his own stories and experiences. His analyses, scientific and logical suggestions have helped students to develop more awareness of issues a lot of people are now interested in, contemplate and relate the topic to themselves, thereby they can be conscious to adjust their attitudes and behaviors in their life in a positive way to achieve the goals and expectations that they desire, self-affirm themselves, and flexibly use their knowledge and abilities to change their lives and enjoy the best things life brings in.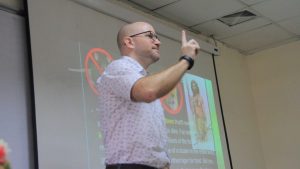 Hopefully, in the coming time, activities and events hosted by the CIE will attract more and more concerns and positive response to participation by various students of High-Quality Training System, so that seminars and workshops in English can become a really useful playground for those who love, passionate about English, and are properly aware of the meaning and importance of English for every aspect of social life.