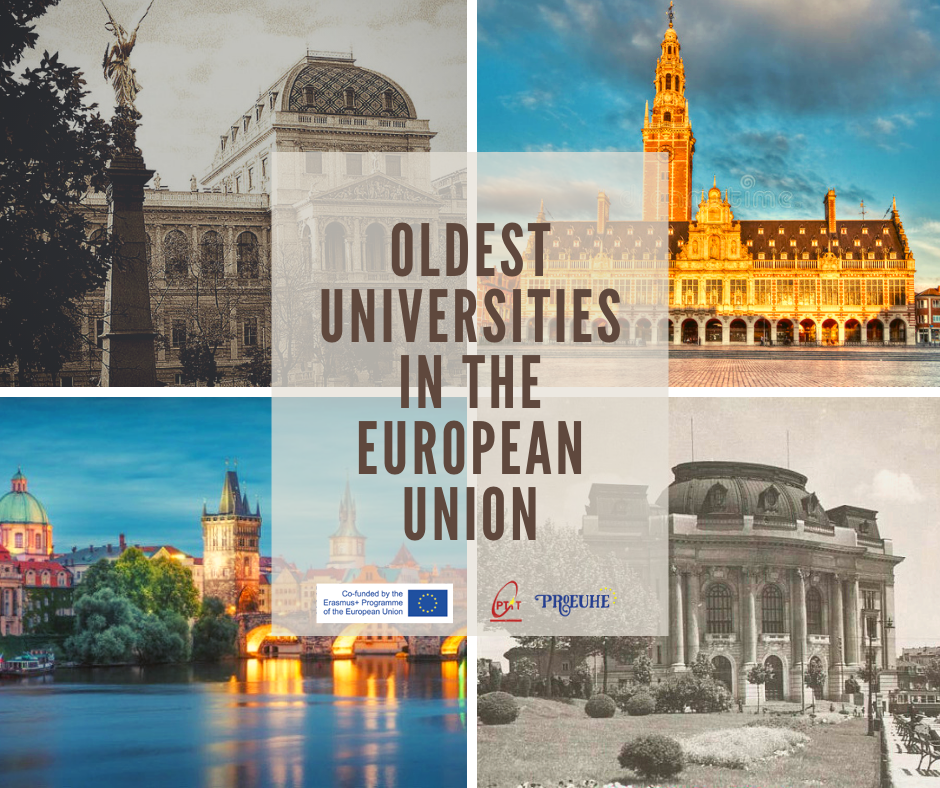 1. Austria: University of Vienna:
The university of Vienna was etablished in 1365. It is located in the beautiful capital city with the same name. It is the oldest and most popular German-speaking university in Central Europe. It houses 28.000 international pupils from all over the world out of 94.000 students in total. The university of Vienna is contains of 50 lecture halls, over 100 conference rooms and research departments, 20 labatories and a vast library. The university has 63 facilities all over Vienna, as well as connections with many institutes, universities and research centers around the world, including in Vietnam.
2. Belgium: Catholic University of Louvain:
Catholique Louvain (also known as the Catholic University of Louvain) is the biggest French-speaking university in Belgium. The Catholic University of Louvain (formerly the Lovaniensis University) was established in the middle of the historical town of Leuven (or Louvain) in 1425, making it the first university in Belgium. Taking pride in its prominent location in the center of Europe, KU Leuven brings an authentic international experience, high quality education, world-class research and advance innovations.
3. Bulgaria: Sofia University:
Sofia University was formed in 1888. It has since become one of the most highly rated university in the whole country, known for its education, scientific, social and humanitarian research. It's consisted of 16 faculties and 3 departments, where over 21.000 students study. Sofia University is consistently ranked as the leading academy in Bulgaria according to both national and international leaderboard, constantly one of the best universities in the world according to QS World University Rankings.
4. Croatia: University of Zagreb
The University of Zagreb (1669) is the oldest and biggest in South Central Europe. The university consists of 29 faculties, 3 art institutes and research centers. With comprehensive programs and over 50.000 undergraduate and postgraduate students, the university is the biggest academy in Croatia. The university provides an array of academic courses with Bachelor, Master and Doctoral degrees in the fields of Arts, Biomedical, Biotechnology, Engineering, Humanities, Natural Science and Society.
5. Cyprus: European Cyprus University:
Founded with the name Junior College of Cyprus in 1961, European Cyprus University (EUC) is the oldest academy in country. EUC – verified as a university in 2007 – has built a reputation for its quality of education with 87% of graduates finding jobs related to their field within 6 months after graduation. EUC also partners with many universities through the Erasmus+ program, allowing EUC students, researchers and staffs to travel and study at a number of universities in Europe (under the Erasmus+ system).
6. Czech Republic: Charles University in Prague:
Charles University in Prague was formed in 1348 and it is one of the oldest universities in the world. Today, there are 17 faculties (14 in Prague, 2 in Hradec Králové and 1 in Plzeň), 3 institutes, 6 more centers for education, science, research activities, development and others or information services, 5 special extensive university facilities and the principals as the administrative center of the entire university.
7. Denmark: University of Copenhagen:
The University of Copenhagen was founded in 1479, and was made up of four faculties: Theology, Law, Medicine and Philosophy. It is the oldest university in Denmark and the second-oldest in Scandinavia. It is also the largest higher education institution in Denmark. Today the University of Copenhagen has about 100 departments and research facilities and six faculties – Health and Medical Sciences, Humanities, Law, Science, Social Sciences and Theology – which offer more than 200 programmes at bachelor's, master's and postgraduate degree levels. Many courses are also provided in English.
8. Estonia: University of Tartu:
Founded in 1632, Tartu Ülikool (University of Tartu) is a non-profit public higher-education institution located in the urban setting of the small city of Tartu. The school is an active attendance of Utrecht network, Coinbra Group Universities and Baltic Sea Region University Network (BSRUN). The university has 80 cooperation agreements with many universities all over the world, more than 800 Erasmus agreements and connect with more than 300 universities through ISEP network.
9. Finland: University of Helsinki:
The University of Helsinki is Finland's oldest university, established in 1640. Today, the University of Helsinki is Finland's highest-ranked institution, at joint 102nd in the world. The university is also Finland's largest higher education institution, with more than 32,000 students enrolled. It has 11 faculties and 11 research institutes, and it offers degrees taught in Finnish, Swedish and English.