On January 28, 2020, the Cybermetrics Lab (under the Spanish National Research Council) announced the results of the Webometrics first ranking in 2020. Accordingly, the Posts and Telecommunications Institute of Technology (PTIT) maintains its position in the top 10 rankings.
Webometrics, also known as the Ranking Web of Universities, is a pioneering ranking system in analyzing the variety of online databases, which helps to assess the unprecedented numbers of educational institutions. Up to this ranking period, Webometrics has provided Web indicators for 172 Vietnamese higher education institutions.
Webometrics evaluates the performance of the educational institutions based on online resources, which includes 4 indicators: Presence: the number of sub-websites of the institution's homepage; Impact: the number of backlinks pointing to the homepage; Openness: the numbers of file formats such as pdf, word, excel,.. published on the website; Excellence of Scholar: based on scientific publications in the Scopus's journal.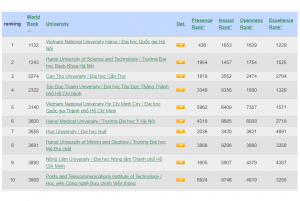 Top 10 Vietnamese universities in the Webometrics rankings
(Source: Webometrics.info)
In this ranking period, Webometrics had a minor change in the method of analysis used in the previous period (July 2019). In detail, the "Openness" indicator of Webometrics evaluated the numbers of the citations of the first 110 authors in Google Scholar in the descending order, excluding of the citations of the first 10 authors.
Webometrics' assessments provide huge amounts of information and data which are similar to the most prestigious rankings such as Times Magazine and Quacquarelli Symonds (QS) in the ranking of the top 100, 500 world universities.
In the Webometrics ranking in the first period of 2020, the Posts and Telecommunications Institute of Technology ranked 10th in the leading universities in Vietnam. Notably, the latest evaluation results of Webometrics have shown that PTIT three times consecutively ranked among the top 10 of the ranking of Vietnamese universities.
Along with being continuously ranked in the top of Vietnam's leading universities, the Posts and Telecommunications Institute of Technology set new goals for the period of 2020 – 2021, including of developing the new disciplines (E.g. Internet of Thing Technology, Control, and Automation, Data Engineering, Financial Technology) to meet social needs and catch up with trends in Industry 4.0; enhancing the capacities of scientific research; improving the performance of Science and Technology services for business orders; promoting the international cooperation in the fields of education which the Institute has strengths and potentials.