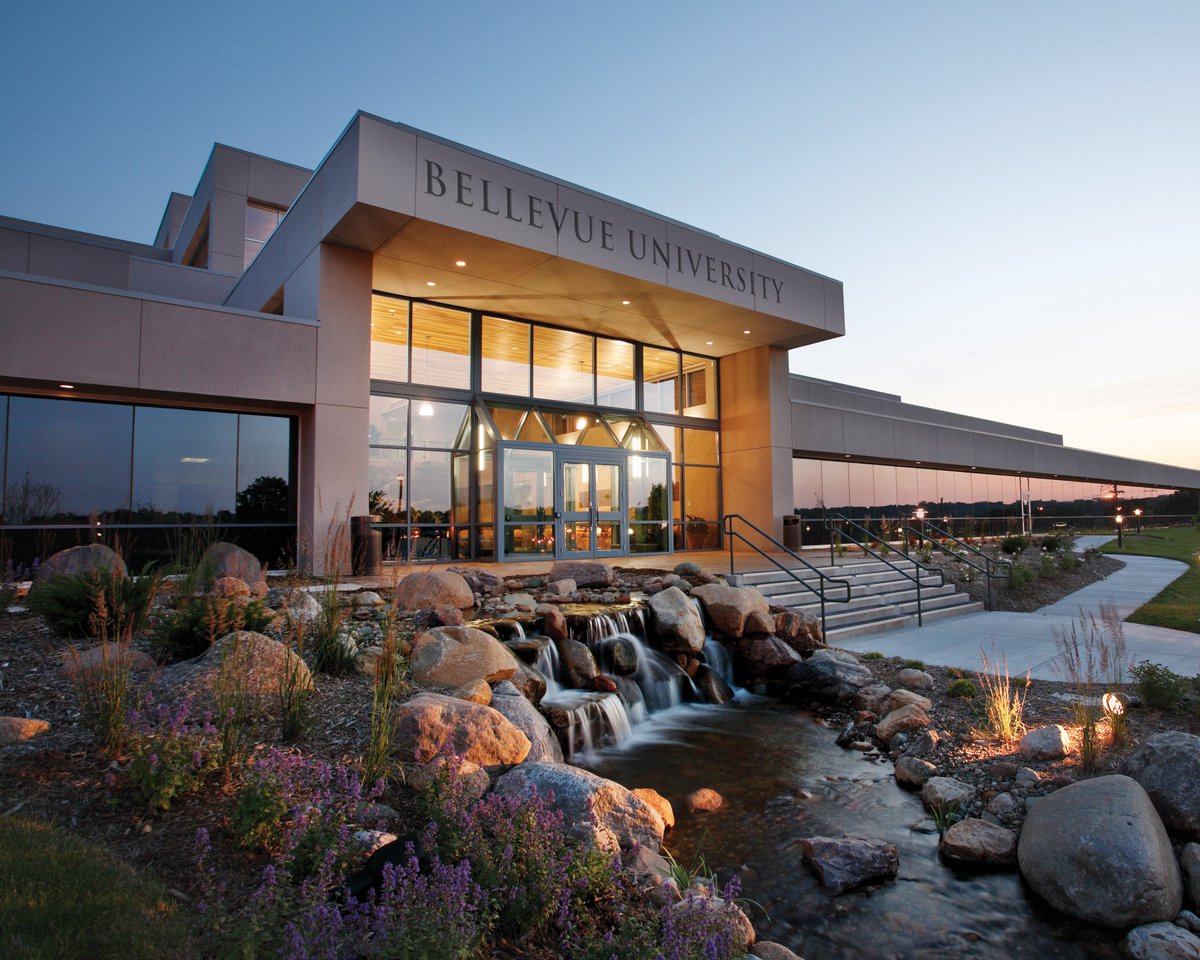 Introduction to Bellevue University
Bellevue University was founded in 1966 in Bellevue, Nebraska. The university has 13 campuses in 5 Midwestern states: Nebraska, Iowa, South Dakota, Missouri, and Kansas. The training program is organized through 4 affiliated colleges: College of Arts & Sciences (arts, sciences, behavioral sciences, media and humanities); College of Business (accounting, business administration, MBA); College of Distributed Learning (online learning program); College of Advanced Studies (leadership, healthcare management, security management, management, and administration). The university is a prestigious institution of higher education and has approximately 4,211 undergraduate students. It offers career-related bachelor's, master's, and doctoral degree programs online and on-campus.
1. Training program
The international bachelor's program in Cybersecurity is a joint training program between the Center for International Education (Posts and Telecommunications Institute of Technology) and Bellevue University, USA.
2. Training period: 4 years at PTIT or at Bellevue University, USA
3. Graduate Diploma: Bachelor of Information Security
Don't hesitate to contact us to get more information

4. Tuition Fee
$3,000/year (~ 70 million VND)
5. Enrolment subjects and enrolment methods
Students who have graduated from high school and have a high school diploma in Vietnam achieve an average grade of 12 from 5.00 (scale of 10.00) or higher.
For 12-grade students who wish to apply for admission before graduating from high school, students must submit their study results in the 10th, 11th and 1st semesters of 12th grade and supplement the following missing documents when there is a notice of admission (conditional) of the program.
Language requirements: TOEFL 61 iBT or IELTS (academic) 5.5 or Duolingo 85. In case students transfer to study at Bellevue University, the foreign language requirement is TOEFL 71 iBT or IELTS 5.5 or Duolingo 85.
Enrolment method: Admission is based on high school results and English proficiency.
6. Transfer conditions
Language requirements: candidates must have at least TOEFL 71 iBT, IELTS 5.5 or Duolingo 85 or higher.
Evidence of financial ability to ensure the ability to complete the course at Bellevue University;
Meet all conditions/requirements of the US Embassy in Vietnam to be granted a student visa to study in the US.
Students participating in the program are supported with free counseling services and support for transferring documents to Bellevue University.
7. Apply:
Application Form (Download here)
2 3×4 photos (taken within the last 3 months);
A valid copy of the high school diploma and high school transcript (candidates can submit the Provisional Certificate of Graduation if they have not received the diploma);
A valid copy of the ID card or valid passport;
Curriculum vitae (according to the form) certified by the locality;
Copy of English language certificate (with the original to be compared), if available.
Health certificate valid within 6 months (can be added later)
8. Submit Deadline:
Phase 1: Application deadline is July 1, 2022
Phase 2: Application deadline is September 30, 2022
Note: Candidates who do not have the required English certificate need to contact CIE to register for an English test for admission to the program.

9. Contact Information
Phone number: 088.616.0606
Email: international@ptit.edu.vn
Address: Center for International Education, Institute of Post and Telecommunications Technology
5th floor, Building A1, Km10 Nguyen Trai, Ha Dong District, Hanoi